Huntsville Hamfest Directions and Parking
The Huntsville Hamfest is held at the Von Braun Center, 700 Monroe Street, Huntsville, AL 35801.
See their map <click here>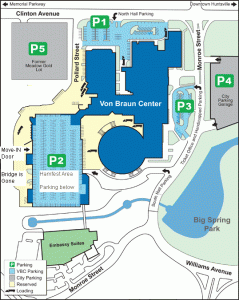 Visitor entrance     34.7279  -86.5896
Commercial dealer & flea market only:   34.7269 -86.5917
The map on the right shows the parking facilities in the VBC area. If you plan to park in the parking area under the South Hall (P2), enter via Pollard Street from Clinton Avenue.
Of course our talk-in station will be available to you if you need further navigation aid. The talk-in will be on the 146.94 repeater, 100Hz tone, and the backup in case of failure will be on the 145.33-, 100Hz tone, repeater.
For more info during the Hamfest, other repeaters are:
53.210-
147.24+
224.94-
443.500+
444.575+
444.75+
See N4HSV.NET for more about area repeaters.